School Council

At Chandlers Field we value the ideas, creativity and voice of our children. Through the School Council we gather the ideas of the children from across the school. Our School Council will enable pupils with positive attitudes to exert a positive influence. Everyone will benefit from the work of the School Council.
Every child votes for two people to represent their class - a councillor and a deputy. The school council meet every two weeks to discuss different aspects of school life. They will then share their discussions with their class and communicate the decisions agreed at the meeting.
In Autumn 2023, the School Council Campaign was launched on Monday 18th September with an assembly explaining what democracy is, the role of the School Councillor, and how to stand for election. The children then campaigned for just over a week, presenting final speeches on Tuesday 26th September.
On Wednesday 27th September, all children were given voting slips and went to the Albert Hall, where polling booths were set up, and they cast their vote and put it in the central ballot box. The results of the elections are posted below: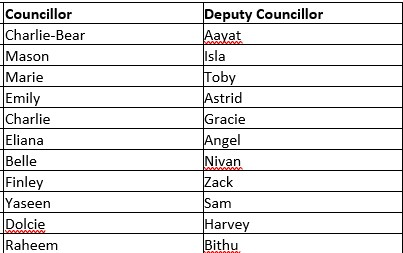 Latest News:
We had our first school council meeting on Friday 29th September. The councillors were fantastic at working together and came up with some wonderful ideas for fundraising, how we can make our school a better place, and what makes a good school councillor.
Minutes from our meetings are attached below.